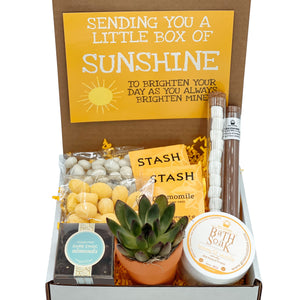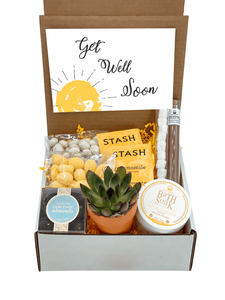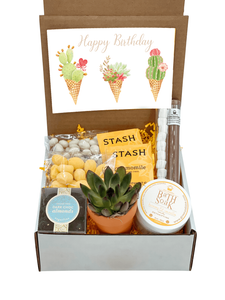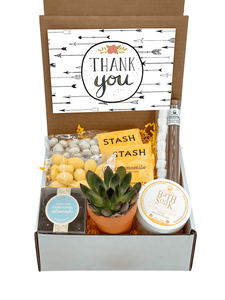 Introducing the Cheerfulness Box: A California-Made Bundle of Joy
Embrace a burst of cheerfulness with our handcrafted Cheerfulness Box, a radiant gift designed and lovingly assembled in the heart of California. Overflowing with delightful surprises, this meticulously curated collection is destined to brighten anyone's day.
Inside the Cheerfulness Box:
Honey & Vanilla Bath Soak: Transform your bath time into a soothing spa experience with the enchanting scents of honey and vanilla. Unwind and pamper yourself.

Dark Chocolate Covered Almonds (Summer Swap: Bit o Honey): Savor the perfect blend of rich dark chocolate and crunchy almonds. A delectable treat that indulges your senses.

2.5-Inch Succulent in a Terra Cotta Pot: Bring a touch of nature indoors with a charming succulent, potted in an earthy terra cotta pot. A symbol of growth and renewal.

Hot Chocolate and Marshmallows: Cozy up with a cup of velvety hot chocolate, topped with fluffy marshmallows. It's like a warm hug in a mug.

Lemon Drop Candies: Satisfy your sweet cravings with the zesty goodness of lemon drop candies. A burst of citrusy joy in every bite.

Yogurt Covered Raisins (Summer Swap: Butterscotch Candy): Enjoy the sweet contrast of yogurt-covered raisins or the nostalgic comfort of butterscotch candy.

Chamomile Tea: Unwind with a calming cup of chamomile tea, perfect for relaxation and tranquility.

Cute Personalized Sunshine Notecard: Add a personal touch with our charming Sunshine Notecard, customized with your heartfelt message.
The Cheerfulness Box embodies the essence of California's sunny disposition, meticulously curated and crafted with love. Whether you're treating yourself or sharing the sunshine with someone special, this gift is a celebration of joy and thoughtfulness.
With our bath soak, delectable treats, potted succulent, comforting beverages, and a personalized notecard, you're gifting a bundle of happiness that brightens hearts.
Discover the Cheerfulness Box today and share the radiance of California's love and positivity, one thoughtful surprise at a time.
For easy gifting, there is never a receipt in the box.