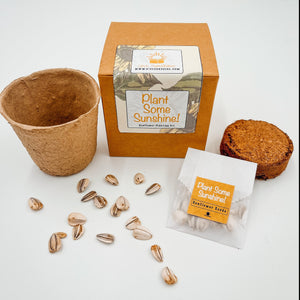 Our "Grow Some Sunshine Box" is an ideal gift for the DIYers or plant lovers that would appreciate growing beautiful sunflowers. 
What is included in the box:
1 - Variety packet of sunflower seeds (Non-GMO)
1 - Biodegradable and organic starter pot (2.4 inches)
1 - Coconut fiber soil pods
1 - Planting guide
PLANTER POT: Measures 2.4 inches in diameter. 100% BIODEGRADABLE and ORGANIC -- Once the seeds sprout, just transplant the whole pots directly into the ground or larger plant pots. These will break down in the soil in the end, environmentally friendly.
SEEDS: The seed variety pack has an assortment of the following sunflower seeds: Autumn Beauty, Dwarf Sungold, Grey Stripe, Lemon Queen, Mexican Sunflower, Velvet Queen, mammoth sunflower seeds, and more! Our variety pack is designed to give you sunflowers from 18" tall all the way up to 7 feet tall. The seeds are HAND PACKAGED BY A VETERAN-OWNED SMALL FAMILY BUSINESS.
SOIL: Sustainable raw coconut coir and environment-friendly.
For easy gifting, there is never a receipt in the box. Our gift box is a thoughtful gift for any occasion!
SHIPPING:

Our products are carefully gift packaged and ship via Priority Mail in the US (1-3
business days).